Sunday, December 09, 2007
Its been a long while since I've made anything out of thread so I thought i'd try my hand at making this Butterfly. The pattern was in a graph only, and IMHO one of the easiest I've ever done. Came from some unknown Japanese website a friend gave me the link to.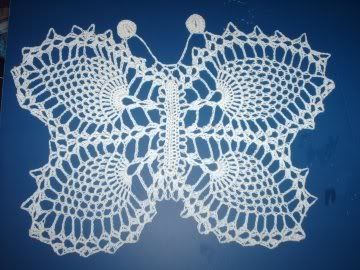 Cheers! Krystal
Posted at 08:12 pm by
ferret_lover
Permalink
Saturday, November 24, 2007
Seeing as how I'm one of the Old School Nintendo type myself, I thought i'd share this totally freakin' awesome link I found on craftster...This totally rocks!
Perler Bead Nintendo Coaster Set
Toodles
Krystal
Posted at 09:11 am by
ferret_lover
Permalink
Thursday, November 22, 2007
I had this big idea to use the Reindeer Applique pattern from the current issue of Crochet Today to sew onto the front of a shirt...but, he's way too big so I think i'm gonna have to make the little reindeer and see how he turns out. He's such a cutie and the pattern took no time at all to do.....
...Maybe I should go down a couple of hook sizes and still you use the big reindeer pattern instead of the little one..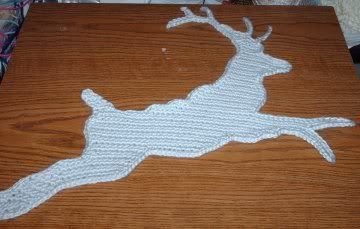 Happy Thanksgiving everybody!!!
Krystal
Posted at 09:33 pm by
ferret_lover
Permalink
Sunday, November 11, 2007
Just in time for winter, this cheerful little fellow arrives! He's super easy to make and works up pretty quickly too. I'm making about 16 of these as Christmas gifts for my fellow co-workers this year.

I usually try and make something within a Snowman theme for all my gifts for work because I want them to be able to use them throughout winter instead of just for the Christmas holiday.
Hook Size: H
Yarn: Red Heart Super Saver in various colors
Add'l Materials: 4" Macrame Ring, Pompom's and 1 button. Hot glue gun.
This pattern was purchased at epatternscentral.com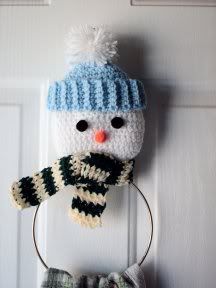 Posted at 01:53 pm by
ferret_lover
Permalink
Sunday, October 21, 2007
Lacy Jacket from Caron Simply Soft
Finally, a F.O. ! It seems like its been forever!
This is the free pattern thats listed on the Caron website. Another fantastic design by Doris Chan. She's one of my favorite designers because all her patterns are all lacy in design and look great!
So, without further ado, here's my finished Jacket!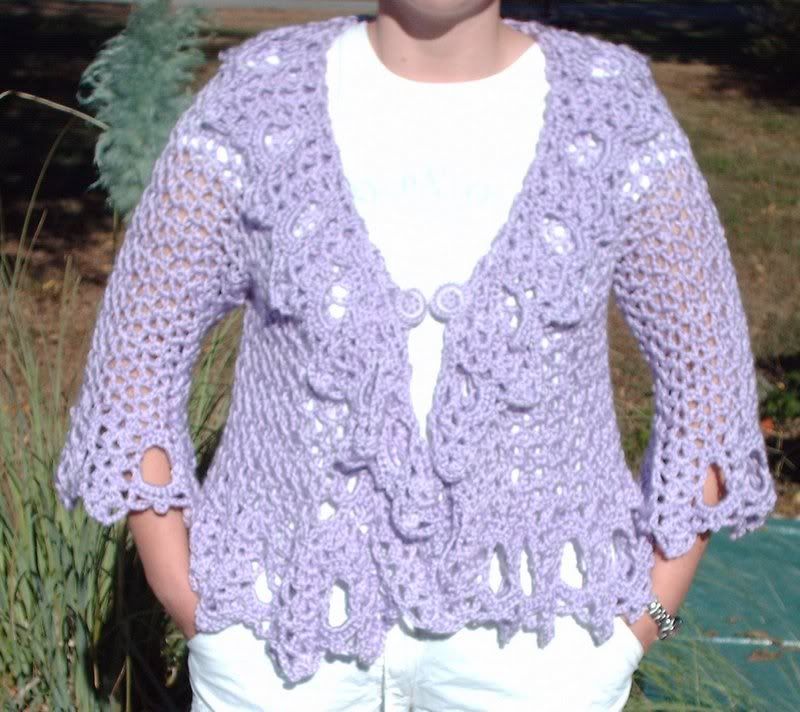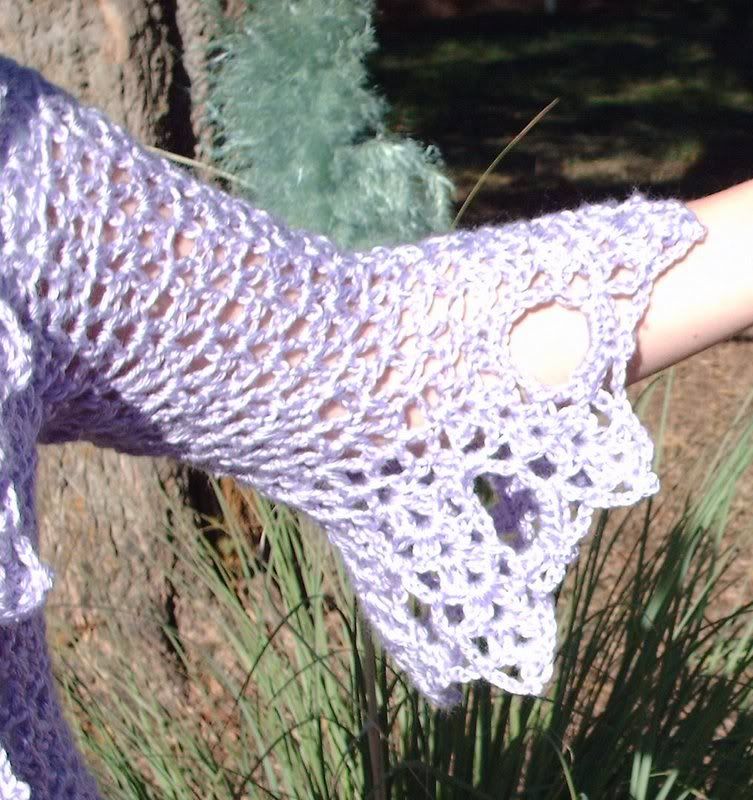 Thanks for looking!
Krystal
Posted at 04:47 pm by
ferret_lover
Permalink
Monday, October 01, 2007
Meet the newest member.......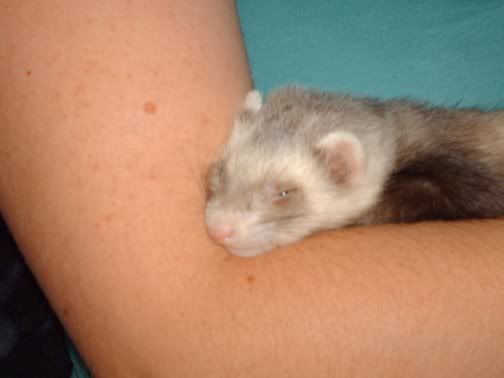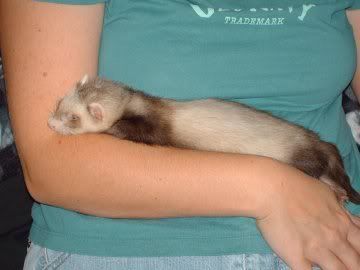 Meet the newest member of the family! He doesn't have a name because he hasn't told us what he would like to be called just yet.
My boyfriend bought him for me today because I have been really depressed after losing my little boy Koko the other night.
I came home today to this little surprise!!! He is just a tiny baby!!! He isn't used to being by hisself just yet, so he cries out until I come and pick him up and then he calms down and drifts off to sleep.
I just cant believe he actually got me another one. He said he wasn't because I cry myself sick after one passes on. But they are so precious the time they are with you and you just cant help but love them
Isn't he just adorable?????
Posted at 06:04 pm by
ferret_lover
Permalink
Sunday, September 30, 2007
Koko for all that doesn't know was the name of my little boy Ferret. We got Koko in November of 2002 after I found out that my little girl Ferret Cody, was not a boy like I had originally thought (hence the name). I cried and cried because I had had a girl ferret before and wanted a little boy ferret really bad. It wasn't that I didn't love her, that was DEFINATELY not the case. I had just wanted a little boy since always having had girl Ferrets.
So, my boyfriend went out and got me another Ferret to make me feel better, and this time we made SURE he was a little boy.
Thats how I ended up with 2 at the same time.
Well, Friday evening I had gotten home from work and I noticed Koko wasn't acting well. He would run around the house and play just for a few seconds and then he would just lay down like a speed bump. I had loved on him for a while and I told my boyfriend that I was going to call my Vet the following morning to see if I could get in for an appointment and have him checked out. What I didn't know was that in the morning was going to be way too late for him. He passed away at 3 am Saturday morning as I was driving him 30 miles away to a Pet Emergency Clinic over in the next neighboring county.
I feel like such a terrible parent because I never knew he was even sick! That night he had extreme diarrhea(sp) and close to the end he threw up blood. And after I seen that, I knew there was no hope. I carefully put him into his carrier and away we went at 2:30 that morning to the emergency clinic. It was soo awful because he made the most aweful noises because he was in pain the whole trip over and I just kept talking to him and saying to him, 'Baby, please hang in there for mom'. But he must have just passed away the minute we brought him thru the door because the doctor took him back to check him and brought him right back out and said he has already passed.
I just wish I knew what had really happend to him because he never had shown any signs that he was sick or anything was seriously wrong with him. The doctor seemed to think that something and burst inside of him, maybe a tumor or something because his spleen had been swollen. Hence, the vomiting of the blood. Out of 5 Ferrets i've ever owned, this is the first one that I never knew what the cause of death was. And I feel so ashamed and rotten like I wasn't a good enough Ferrent (parent).
But as I cry my eyes out and nurse the hurt, I leave you with a pic of my little boy laying asleep in my lap.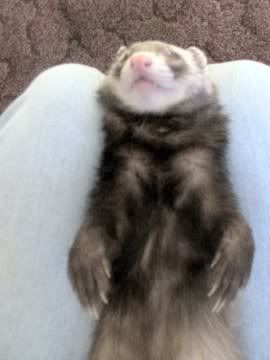 Posted at 01:02 pm by
ferret_lover
Permalink
Thursday, September 27, 2007
Here's the latest swatch I've done lately. Its the 6 stitch cable swatch. Maybe one day it might turn into a beautiful bag!
Posted at 09:07 pm by
ferret_lover
Permalink
Saturday, September 22, 2007
Cable Knit Hobo Bag from Old Navy
I was browsing the Old Navy store online and came across this great looking cable knit hobo bag.
Just wanted to share this and maybe gather a few ideas about making one myself......
....but on the knitting front, i'm not doing so well. I'm doing a practice swatch now and I've dropped several stitches and cant figure out how to fix them even after watching SEVERAL videos on how to do this because I dont see the "loop" that i'm supposed to use to fix the crazy thing. But, i'm going to keep at it and hopefully try and even out my tension and maybe one day say, "yeah, I knitted that!". I saw a fantastic video on DIY's Knitty Gritty about how to do cables and I'd LOOoooOOoOOOove to do those! But I guess I need to learn to master a bunch of other stitches, etc before tackling those dontcha think?
So, after the flop of the 'Wisteria Lane Vest', i've got nothing new on my hooks. I've got several possible projects, but no yarn to actually get started on them. I guess that leaves me plenty of time to get more practice in at knitting.
Posted at 03:31 pm by
ferret_lover
Permalink
Saturday, September 15, 2007
In Crochet News: Wisteria Lane Vest to Debut Soon!
My new vest I'm working on for fall will hopefully have a debut really soon. I started out with 10 skeins of Knitpicks Shine Worsted in Wisteria and I have 2 balls left, and I still have a little bit of the right front panel to complete and all of the left front panel.

Whats a hooker to do? No worries, 'cause hopefully my new batch will be arriving in the mail any day now. Its been a week since I ordered it, and I'm hoping that maybe today is the magic day for arrival.
I'm not one on posting 1/2 completed projects although I do like showing the progress every now and then, so I think on this one, I'll just wait until the entire vest is complete before posting the pictures.
Just wanted to give my readers an update and to say that I really am crocheting!
Hopefully I'll have pics soon!
Take care everyone and God Bless!
***UPDATE 9/22/07.....The vest turned out to be a flop and is waiting to be frogged and turned into some other kind of prince.***
Posted at 02:32 pm by
ferret_lover
Permalink